Testimonials
It's been a year since we joined the Studio X (Toxic Cheer) team of amazing dancers. It has been a wonderful experience to date and we have grown very close to all the dedicated coaches that work tirelessly to ensure all routines are of the highest standard possible. We receive a personalised service from Studio X that works for our family and most importantly keeps our daughter happy and always wanting more. The coaches take the time to support and guide each child individually in consideration with skills set, goals and family situation. The time has been taken to ensure our daughter learns all skills in the safest and correct manner to enable her growth and development of each dance style. We are very happy with Studio X and Toxic Cheer as a provider for our daughter's dance & cheer activities and are excited to see what's in store for 2019!
-Mel Kay, Dec 2018
My daughter has danced with Studio X (Toxic Cheer) for this last year and has learnt and developed so much, she is progressing well in her technique and discipline. My daughter has never felt uncomfortable in a class and is driven to try her best to achieve her potential under the careful guidance of her teachers. They truly bring out all of the best qualities in my daughter and give her the skills to be able to achieve all of her goals. She has developed the confidence to be her best self and to put her best self forward. As a mother I have enjoyed seeing the progression of skills through the levels of each discipline not only for my child but for other children in the studio. We are excited and looking forward to the year ahead.
-Doreen Taewa-Munn, Dec 2018
Studio X Dance (Toxic Cheer and Dance) has influenced my daughter's life in many ways over the past three years. My daughter's confidence has developed both inside and out of the studio and she is happily forming life-long friendships and memories. The relationship between the coaches and students is truly amazing. The coaches focus on teaching dancers to be part of a team, while also inspiring them to be creative and unique individuals. There is a high level of professionalism throughout the programs which encourage students to become strong, focused dancers.
-Erin Barker, Dec 2018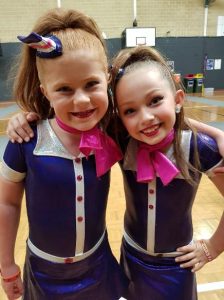 Dear Shaz,
You are a really good teacher. You make our heart blow up. We love the moves that you teach us like toe rises. I love the dance with the big girls. We love our jazz partners like Izzy, Tori, Skye and Beth. Even our lyrical – I LOVE IT! The bit we most like is you.
We love the costumes and we can't wait for the costumes with the big girls. I hope we make your heart sing, 'La, la, la!'. We feel so proud if we come 1st place because you have worked hard for us. We even love when you play lots of different games like 'Night of the Museum' and sometimes handstand competitions.
-Love from Amity & Elli (7), Nov 2018